Corner Shower Stool (Height Adjustable) from Amazon
Go back
to products
Corner Shower Stool (Height Adjustable)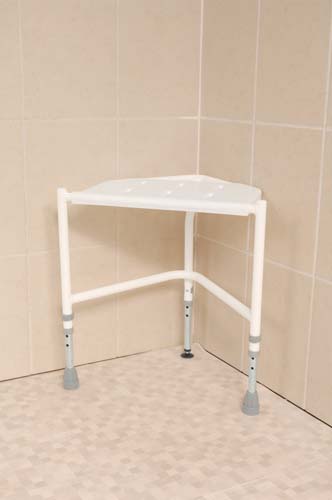 Amazon Marketplace
Visit the website to purchase directly from: Amazon
DISCLAIMER: East Lothian Health and Social Care Partnership does not have any affiliation or connection with these suppliers. ADL Smartcare and East Lothian Health and Social Care Partnership have no responsibility for the content once you leave this site.
Equipment Description
Free-standing shower stool, offering seated support for user in confined shower areas. Stool sits in corner of shower base to maximise space and allow carer access. Easily Height adjustable with e-clips to suit different user requirements. Tilting rear foot allows fit on bevelled edges to further maximise space. Clip on/clip off removable polypropylene seat for easy cleaning. Drainage slats in seat. Steel frame coated in duradip (c). Slip resistant, non marking feet provide stability. Suitable for thermal decontamination in automated washing machines. Seat Width - 41cm 16''), Seat depth - 26cm (10''), Seat Height Min - 42cm 16'', Seat Height Max - 56cm 22'', Max weight capacity 127kg - 20 stone. Width 51cm 20'', depth 33cm 13'', Weight 6kg 13lb.