Go back
to waterproof cast protectors
LimbO Adult Full Leg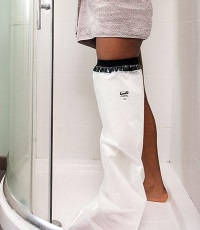 Where to buy
DISCLAIMER: East Lothian Health and Social Care Partnership does not have any affiliation or connection with these suppliers. ADL Smartcare and East Lothian Health and Social Care Partnership have no responsibility for the content once you leave this site.
Description
This LimbO protector will seal just above the cast. This model can ONLY be used in baths or showers. Height: 5ft5in - 6ft (1.65-1.83m) - Weight: 10 - 18 Stone (64-114kg). Suitable for a leg circumference of 52 – 65cm, measure 8cm above the cast or at the top of leg. Made from PVC and nylon this product is Latex free.
Helpful advice
Using cast protectors
When using a cast protector to bathe or shower bear in mind that condensation will slowly form inside and so it is advisable not to wear it for longer than necessary; ideally not more than 20 minutes.