Go back
to waterproof cast protectors
Bloccs Waterproof Protector for Casts and Dressings - Short Arm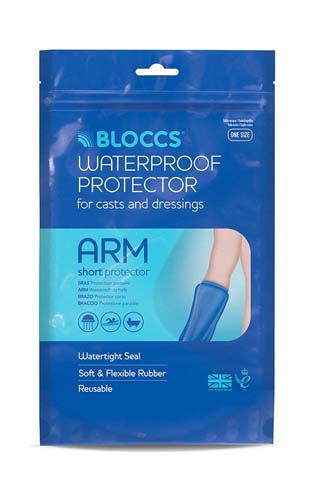 Where to buy
DISCLAIMER: East Lothian Health and Social Care Partnership does not have any affiliation or connection with these suppliers. ADL Smartcare and East Lothian Health and Social Care Partnership have no responsibility for the content once you leave this site.
Description
Bloccs Waterproof Arm Protector is designed to protect a cast or dressing to enable anyone with an arm or hand injury to bathe or shower as they normally would. This fully watertight and completely submergible protector can even be used when swimming in the sea or in a pool. Bloccs provides protection from water for plaster casts, dressings and bandages. Bloccs is made from soft and flexible natural rubber and can be reused. Bloccs is easily stretched over the cast to make a watertight seal, preventing water from penetrating the cast or dressing even when the limb is fully immersed. Note this product is made from Natural Rubber and may cause an allergic reaction. Please ensure you do not have any allergies to any of the materials used to produce this product.
Helpful advice
Using cast protectors
When using a cast protector to bathe or shower bear in mind that condensation will slowly form inside and so it is advisable not to wear it for longer than necessary; ideally not more than 20 minutes.