Go back
to toilet frames and surrounds
Economy Toilet Frame (Height Adjustable) and Floor Fixing Kit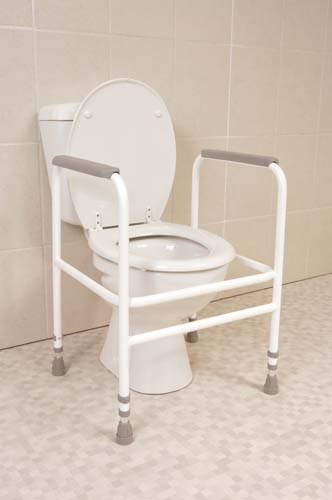 Loaning this equipment
This equipment can be loaned from East Lothian Health and Social Care Partnership, however we don't know if this is suitable for you until you tell us more about yourself.
Where to buy
DISCLAIMER: East Lothian Health and Social Care Partnership does not have any affiliation or connection with these suppliers. ADL Smartcare and East Lothian Health and Social Care Partnership have no responsibility for the content once you leave this site.
Description
Including floor fixing kit for added stability. Free standing frame offering you extra support when using the toilet. Sturdy, height adjustable, supplied in a white finish. Featuring plastic moulded arm supports for comfort and slip resistant rubber ferrules for extra stability. || NOTE: If your seated hip width exceeds 43.5cm then this product may be too narrow for you. || NOTE: If you have any obstruction behind the toilet e.g. pipes, then this product may not fit. In order to fit correctly over the toilet bowl, this product requires a distance of 41cm from the front of your toilet bowl rim to the furthest outer part of any obstruction behind the toilet.
Important information
Avoid tripping over a toilet frame
When using a toilet frame, please be very careful when you stand up and walk away to ensure that you do not trip over the toilet frame legs, as they stick out from the toilet.
Help with fitting
How to set the height of adjustable toilet frames
Please click on the link to see the document.
Help from a qualified fitter
If the products you are ordering are fixed to the wall or floor, we recommend that you contact a local fitter/handyman to complete this work. It is always a good idea to use someone who has been recommended to you.
Caution when fixing products to bathroom floors
Before fixing any piece of equipment to or near your specialist flooring (i.e. a wet room) consider the risk of damage and that the warranty for the wet room floor may become void.