Go back
to toilet frames and surrounds
Days Adjustable Aluminium Toilet Surround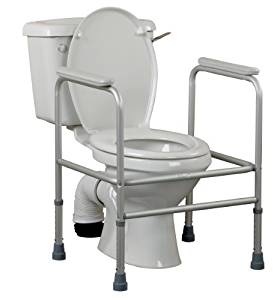 Where to buy
DISCLAIMER: East Lothian Health and Social Care Partnership does not have any affiliation or connection with these suppliers. ADL Smartcare and East Lothian Health and Social Care Partnership have no responsibility for the content once you leave this site.
Description
This light aluminium frame is designed to sit around your toilet bowl to aid you in getting on and off your toilet. The product is height adjustable and has moulded plastic armrests and non-marking, slip resistant feet. This version of the product is free standing and can be moved out of the way. Dimensions (wxd) 58 x 47cm (23 x 18.5in). Height of bar to sit under toilet bowl (Min-Max) 35.5cm – 45cm (14 – 18in).The maximum user weight is 19.5st (124kg)
Important information
Avoid tripping over a toilet frame
When using a toilet frame, please be very careful when you stand up and walk away to ensure that you do not trip over the toilet frame legs, as they stick out from the toilet.
Help with fitting
How to set the height of adjustable toilet frames
Please click on the link to see the document.