Go back
to tap rails
Tap Rails - Hampshire Short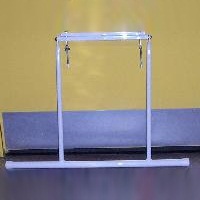 Where to buy
DISCLAIMER: East Lothian Health and Social Care Partnership does not have any affiliation or connection with these suppliers. ADL Smartcare and East Lothian Health and Social Care Partnership have no responsibility for the content once you leave this site.
Description
These rails are made of a metal construction, and are straight so that they will fit over centrally fitted bath taps. They are used by the client to pull themselves up from the bottom of the bath. To use this product you need some strength in your arm and stomach muscles and it may not be suitable if you do not have reasonable muscle power in your arms and stomach. Size: SHO 2204 - 13" long x 13½" wide Handle bar is 26½" long Maximum user weight: 102 kg / (approx 16 stones). These are not designed to take entire body weight.
Important information
Tap rails should not be used to step into or out of the bath
Do not use a tap rail to help you get in and out of the bath as these rails are not designed for this purpose and can move in the wrong direction causing you to fall.