Go back
to shower stools
Belmont PU Corner Shower Stool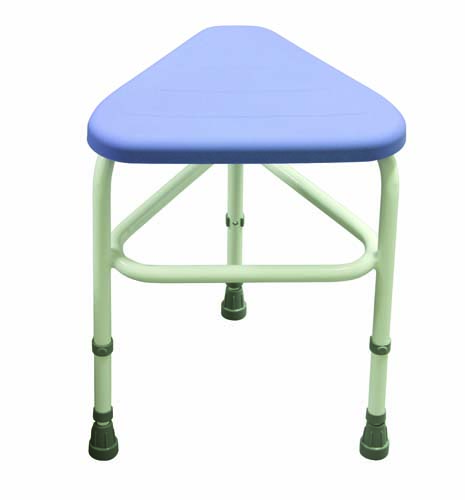 Where to buy
DISCLAIMER: East Lothian Health and Social Care Partnership does not have any affiliation or connection with these suppliers. ADL Smartcare and East Lothian Health and Social Care Partnership have no responsibility for the content once you leave this site.
Description
Height adjustable triangular shower stool, which fits neatly into corner of shower base. Legs easily adjust in height with e-clips for optimal sizing. Robust tubular steel frame is dip-coated in Duradip® tough, peel-resistant plastic for longevity of use. Polyurethane (PU) moulded padded seat is watertight, easily cleaned and comfortable. Non-slip feet give stability and prevent marking of shower base. SEAT WIDTH 40cm (16"), SEAT DEPTH 36cm (14"), SEAT HEIGHT MIN 51cm (20"), SEAT HEIGHT MAX 64cm (25"), WIDTH 43cm (17"), DEPTH 43cm (17"), WEIGHT 3.5kg (8lb), MAXIMUM WEIGHT CAPACITY 165kg (26st).
Helpful advice
Using your shower chair or stool in a cubicle safely
Please click on the link to see the document.