Go back
to rotating bath seats
Adjustable Width Swivel Bather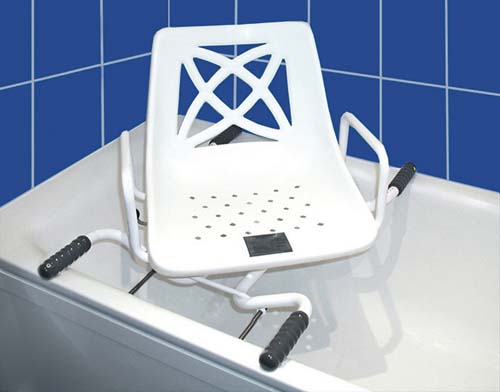 Loaning this equipment
This equipment can be loaned from East Lothian Health and Social Care Partnership, however we don't know if this is suitable for you until you tell us more about yourself.
Where to buy
DISCLAIMER: East Lothian Health and Social Care Partnership does not have any affiliation or connection with these suppliers. ADL Smartcare and East Lothian Health and Social Care Partnership have no responsibility for the content once you leave this site.
Description
A sturdy, white plastic seat that can rotate and lock into position to allow the bather to sit comfortably and have easy access to the bath. The seat is fixed to a stainless steel frame that rests on the rim of the bath and has a securing mechanism. The arms give added security for the bather and the holes in the seat facilitate drainage. The chair can be locked in position once the bather has rotated into the bath. This is an alternative solution for people with skin problems in the thigh/buttock area who do not want to use the bath board. Fairly easy to fit. Frame width (ie. from one side of the bath to the other): 66cm -76cm (26in - 30in). Seat depth: 40cm. Internal width of seat: 48.5cm. Suitable for users weighing up to 102kg 16 stone. Can be used with a box step. Constructed using Stainless Steel. Allows users up to 16 stone (102Kg) Base Width 535mm.