Go back
to perching stools
Bariatric Perching Stool - Arms & Steel Back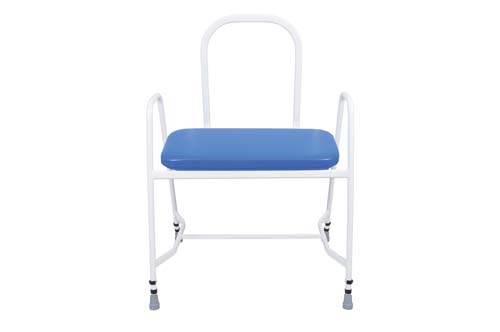 Where to buy
DISCLAIMER: East Lothian Health and Social Care Partnership does not have any affiliation or connection with these suppliers. ADL Smartcare and East Lothian Health and Social Care Partnership have no responsibility for the content once you leave this site.
Description
This adjustable height metal framed perching stool has a wide seat and frame to accommodate larger hips. The product is designed for the user to perch on but this particular version only has a very slight forward tilt on the seat so that the user feels secure. The arms and back are NOT padded but give tubular support. The maximum user weight is 254kg (40st) Approx dimensions – Seat Height 580 – 720mm (22.75" – 28.25"). Width between the arms 660mm (26").
Helpful advice
Helpful tips for using perching stools
Please click on the link to see the document.