Go back
to perching stools
Bariatric Adjustable Height Perching stool with Tubular Arms & Padded Back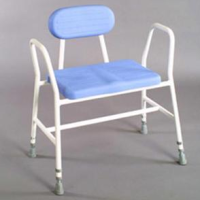 Where to buy
DISCLAIMER: East Lothian Health and Social Care Partnership does not have any affiliation or connection with these suppliers. ADL Smartcare and East Lothian Health and Social Care Partnership have no responsibility for the content once you leave this site.
Description
A height adjustable extra wide perching stool which is made of anti-bacterial polyurethane and has moulded upholstery for comfort. It has footprint of 72cm x 45cm and has a padded back and tubular arms. The approx width between the arms is 64.5 cm. Max user weight is 280kg (44st). NOTE: If someone else uses the same shower, they will need to be able to move this product out of the way. NOTE: Bariatric products have a higher safe working load which could impact upon the integrity and safety of your shower / wetroom floor. It is your responsibility to ensure that this product can be safely used in your shower. If you need further advice please contact your local adult social care department. IMPORTANT NOTICE: Loose rugs or floor coverings must be removed in the area where you use this product. Do not put the stool half on a rug as it can be unstable.
Helpful advice
Helpful tips for using perching stools
Please click on the link to see the document.