Go back
to grab rails
NRS Plastic Fluted Grab Rail 18in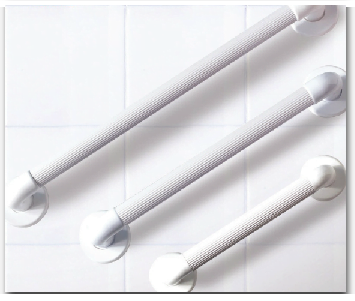 Loaning this equipment
This equipment can be loaned from East Lothian Health and Social Care Partnership, however we don't know if this is suitable for you until you tell us more about yourself.
DISCLAIMER: East Lothian Health and Social Care Partnership does not have any affiliation or connection with these suppliers. ADL Smartcare and East Lothian Health and Social Care Partnership have no responsibility for the content once you leave this site.
Description
Warm to touch white polypropylene plastic, these grab rails feature a fluted design for safer grip and confidence. They also feature a circular flange that clips into place and covers the wall fixings. Suitable for internal and external use. No electrical earthing required. Dimensions: Rail Diameter 36mm (1.5"). Rail to Wall Clearance 50mm (2").
Help with fitting
Help from a qualified fitter
If the products you are ordering are fixed to the wall or floor, we recommend that you contact a local fitter/handyman to complete this work. It is always a good idea to use someone who has been recommended to you.
How to fix your rails safely
We recommend that you ask a qualified joiner and/or plumber to fit grab rails in your home, depending on where you are fitting this. Discuss what position will help you most with your fitter. The fitters will know whether you have a solid or stud wall and fit the rail appropriately. Please ensure that any grab rail you use is fitted according to the manufacturer's instructions as there are safety standards that need to be taken in to account.
Fitting and positioning your grab rail
Please click on the link to see the document.