Go back
to bath lifts and powered bath seats
Neptune Bath Lift with Corner and Wide Bath Kit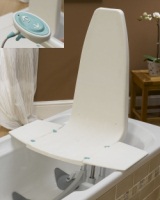 Where to buy
DISCLAIMER: East Lothian Health and Social Care Partnership does not have any affiliation or connection with these suppliers. ADL Smartcare and East Lothian Health and Social Care Partnership have no responsibility for the content once you leave this site.
Description
The Neptune bathlift is designed to give safety, comfort and freedom to bathe whenever you want, wherever you are - at home, on holiday or while visiting relatives. This model comes with a corner/wide bath kit which can replace the standard side flaps, thereby ensuring safe transfer onto the seat in wide or corner baths, whilst also maximising legroom in the typically smaller corner bath. The Neptune encompasses an ergonomically designed seat and backrest ensuring lasting comfort even during the longest of soaks. Its user-friendly features allow the user to be raised and lowered safely and securely. Impressive legroom, lightweight, comfortable and stylish, the Neptune is a highly versatile and great all-round bath lift. Requiring no special installation, the Neptune's 4 large and powerful suction feet ensure a stable fit in most baths. Contoured side flaps avoid most built-in bath handles and a short footprint avoids contact with most non-slip bath surfaces for stable fit. The lift is operated by rechargeable battery. The hand control has large easy-to-press rocker switches and a battery level indicator, which indicates when recharging is necessary. The Neptune's slim and practical design allows you to sit right back in the bath, maximising legroom, so you can enjoy your bathing. Fully portable, the seat can be instantly detached from the frame, making the Neptune one of the easiest bath lifts to use when it comes to moving and handling. The simple, yet attractive contours of the slender Neptune make it a stylish addition to your bathroom and its smooth, accessible and crevice-free surfaces makes it hygienic and simple to clean. Additional accessories include cushioned seat covers for increased comfort, carry bag, pelvic harness and a slide and swivel aid to assist with transferring onto the seat. The guarantee is 5 years on the frame, 2 years on consumables and 1 year on the battery and accessories. Dimensions: Seat (w x d) 350mm x 410mm (13.8 inch x 16 inch), Seat height (lowest-highest) 70mm-435mm (2.8 inch x 17 inch). Product weight - 9.5kg. Maximum user weight: 160kg (25 stone).
Helpful advice
Hints and Tips for using powered removable bath lifts
Please click on the link to see the document.
Help with fitting
Using a grab rail with a bath lift
Using a grab rail with a bath lift