Go back
to bath lifts and powered bath seats
Aquila Bath Lift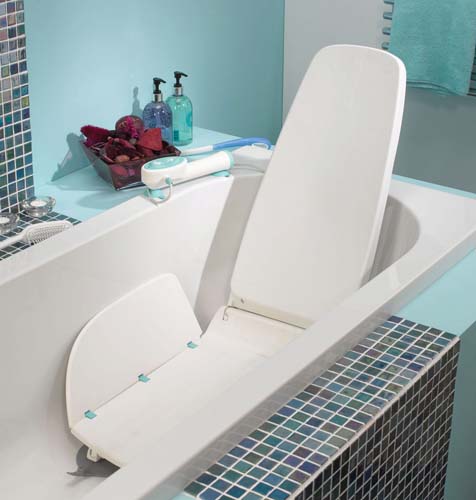 Where to buy
DISCLAIMER: East Lothian Health and Social Care Partnership does not have any affiliation or connection with these suppliers. ADL Smartcare and East Lothian Health and Social Care Partnership have no responsibility for the content once you leave this site.
Description
The Aquila is a lightweight reclining bath lift, weighing less than 10kg, and featuring a button-controlled back angle adjustment, which allows greater comfort for users with stiff hips or spinal problems (e.g kyphosis or scoliosis). The Aquila lowers someone to a position close to the base of the bath to allow for good water immersion. The longer-than-average backrest provides increased shoulder, neck and/or head support whilst bathing. The Aquila has 4 large, pivoting suction feet which gives a stable fit, even on curved bath surfaces and allows the lift to be positioned far back in the bath for increased legroom. The Aquila has a sucker-release handle, which means there is no need to struggle under the seat to detach individual suction feet, when removing from the bath. The hand control has large rocker switches making it easy to operate by users with limited dexterity in their hands or visual impairment. The lift has a flat-folding design and separates into 2 sections (the backrest detaches simply by folding it fully forward) which makes it light and easy to move and handle. A unique, open based frame and limited crevices makes this lift hygienic and simple to clean. Various accessories are available including seat covers offering padding for increased comfort. This bath lift is battery operated and has a battery level indicator. It has a Stop Descent feature which prevents the lift from lowering the user into the bath if there is not enough battery power to rise after bathing. No specialist installation is required. The guarantee is 5yrs on the frame and 2yrs on consumables, excluding battery which is guaranteed for 1 year. Dimensions - Backrest length 690mm (27 inch), Seat (w x d) 360mm x 475mm (14 inch x 19 inch), Seat height - lowest 75mm (2.95 inch), highest 440mm (17.3 inch), Sucker diameter 120mm (4.7 inch), product weight - 9.6 kg. Maximum user weight 140kg (22st).
Helpful advice
Hints and Tips for using powered removable bath lifts
Please click on the link to see the document.
Help with fitting
Using a grab rail with a bath lift
Using a grab rail with a bath lift