Go back
to bath and shower steps
Adjustable modular bath step 2in + 1in Section (3in total)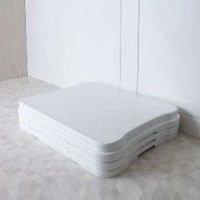 Where to buy
DISCLAIMER: East Lothian Health and Social Care Partnership does not have any affiliation or connection with these suppliers. ADL Smartcare and East Lothian Health and Social Care Partnership have no responsibility for the content once you leave this site.
Description
Flexibility - The versatile Nuvo Adjustable Bath Step consists of two stacking 2in step sections with 1in overlap and four support pillars. When stacked together the step sections give a 3in step. Use a single step section with a minimum of two support pillars for a 2in step, or add a second step section for a 3in step. Security - Each Bath Step section has non-slip feet, so the Bath Step remains secure on a wide range of bathroom floor surfaces. The top surface of each step has a specially designed surface texture that is both comfortable on the feet, but also provides excellent resistance to slipping, even when the client has wet feet. The support pillars provide additional strength and support to the Bath Step, giving greater confidence to the user when standing on the step. A recess, on the side of each section, allows the step to be picked up easily from the floor when required. Style - Attractive styling and a bright white finish, enable the Bath Step to complement a wide range of bathroom colour schemes and styles. Colour co-ordinated to other bathroom products in the Nuvo range. Manufactured in polypropylene. Can be cleaned by wiping with mild disinfectant or autoclaved at cycles up to 80°C.Length 50cm (19.5in). Width 39.5cm (15.5in). Height Options: 5.1cm (2in), 7.7cm (3in). Max user weight 190kg (30st).
Helpful advice
Helpful advice on using a step at the side of the bath
Please click on the link to see the document.
Seek further help if a bath or box step is the only solution offered
Following your online assessment you have only been offered a bath or box step. If you feel this does not meet your needs, please seek further advice from your local Independent Living Centre or alternatively by your local Adult Services department. There may be other products to help you. Please explain that you have already completed an online assessment because you are having difficulty lifting your legs into the bath and that it was recommended that you seek further help. The Adult Services department of your local authority can be contacted by using the 'Request further help with this assessment' button. This can be found at the end of all assessments on the Assessment Summary page.